Blindspot Mirror
FREE SHIPPING
EASY RETURNS
100% SECURE PAYMENT
24/7 SUPPORT
Protect Yourself and Your Family FROM Accidents!⁣
According to the Ministry of Road Transport and Highways of India, a death occurs every four minutes due to road accidents. Apart from the obvious causes like over speeding, drunken driving, potholes etc., there is a more subtle evil of blind spots. Blind spots are areas on a road that are obstructed from the visual range of a driver. Most of the unfortunate accidents occur because of these blind spots.
A blind spot is an area you can't see while looking forward or in your mirrors and that is hidden by parts of the vehicles structure. Missing these areas can lead to collisions where it feels like the other vehicle has emerged from virtually nowhere. A blind spot mirror provides you a clear view of the area that both standard internal rearview mirror and side mirrors cannot coverand protect you and your loved ones from possible collision ❤️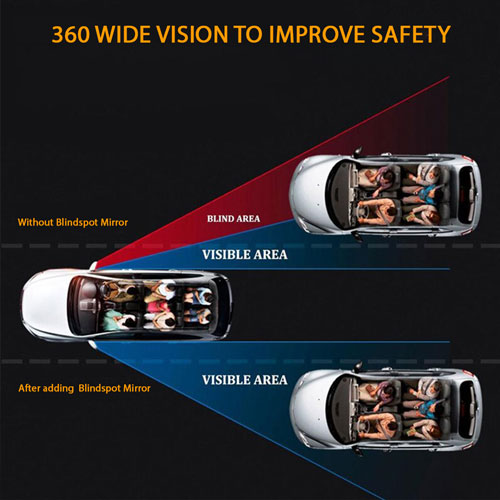 Benefits Of Blind Spots
Minimum space, maximum sight.
Minimum space, maximum sight. The smart design not only won't limit your sight but save space, which makes your rearview mirrors look harmonious with our blind spot mirror.
360°rotatable + 30°sway adjustable
360°rotatable + 30°sway adjustable or Fixed installation. You can forecast any surroundings when passing or changing lanes, avoiding accidents and collisions.
GUARANTEED SAFE CHECKOUT
HD Glass that will not haze (unlike other plastic mirrors)
The blind view mirror is IP65 waterproof, rust-resistant and the glass will not haze. The convex mirror HD Glass ultra-thin design, concave design helps you to forecast the next surroundings when passing or changing lanes.
3M High Quality Special Black Glue (Install quickly and easily)
Install quickly and easily. Car blind spot mirror comes along with 3M adhesive tape for waterproof and long-lasting stickiness. You will surprise because it is still cohesive enough even you wash your car daily.
Park Your Car Perfectly Every Time!
Never worry about parking in tight spot ever again! 360° adjustable Blind Spot Removal Mirror helps to provide better visibility at the time of parallel, Perpendicular or angle parking. The stick-on application installs in seconds, and can be adjusted any time after installation to provide you with the best, safest view possible from any seating position! It extends your range of sight on both sides and behind your vehicle, allowing you to see a broader range of safety while driving.
Get Your Blind Spot Mirror Now