Motor Headz 1200 GSM Twisted Loop Microfiber Cloth
Now available are our high-quality 1200 GSM microfiber twisted loop towels! It's 100% AA-Grade Microfiber and dries swiftly and evenly without leaving streaks. It glides across paint and glass surfaces with ease and tenderness. 70% polyester and 30% polyamide makes up our new Super Absorbent Microfiber Twisted Loop Towel. It has a high-quality microfiber design with a twisted loop that provides excellent absorbency and safety when washing your vehicle.
These unique fibres have a high amount of water sucking absorbency and make the towel exceptionally easy to use, as it slides over the surface with ease. With proper care, this extremely durable car wash cloth may withstand hundreds of washings while becoming softer each time.

Guaranteed safe & secure checkout
Motor Headz 1200 GSM Twisted Loop Microfiber Cloth
Description
A Microfiber Cloth That Will Become Your Vehicle's New Best Friend!
Washing your vehicle is a breeze with the Motor Headz Twisted Loop Towels. With its soft and absorbent microfiber weave, it removes dirt like magic. The slick design features twisted loops that are gentle on the surface of your vehicle, while the reinforced edge helps capture debris and dust easily.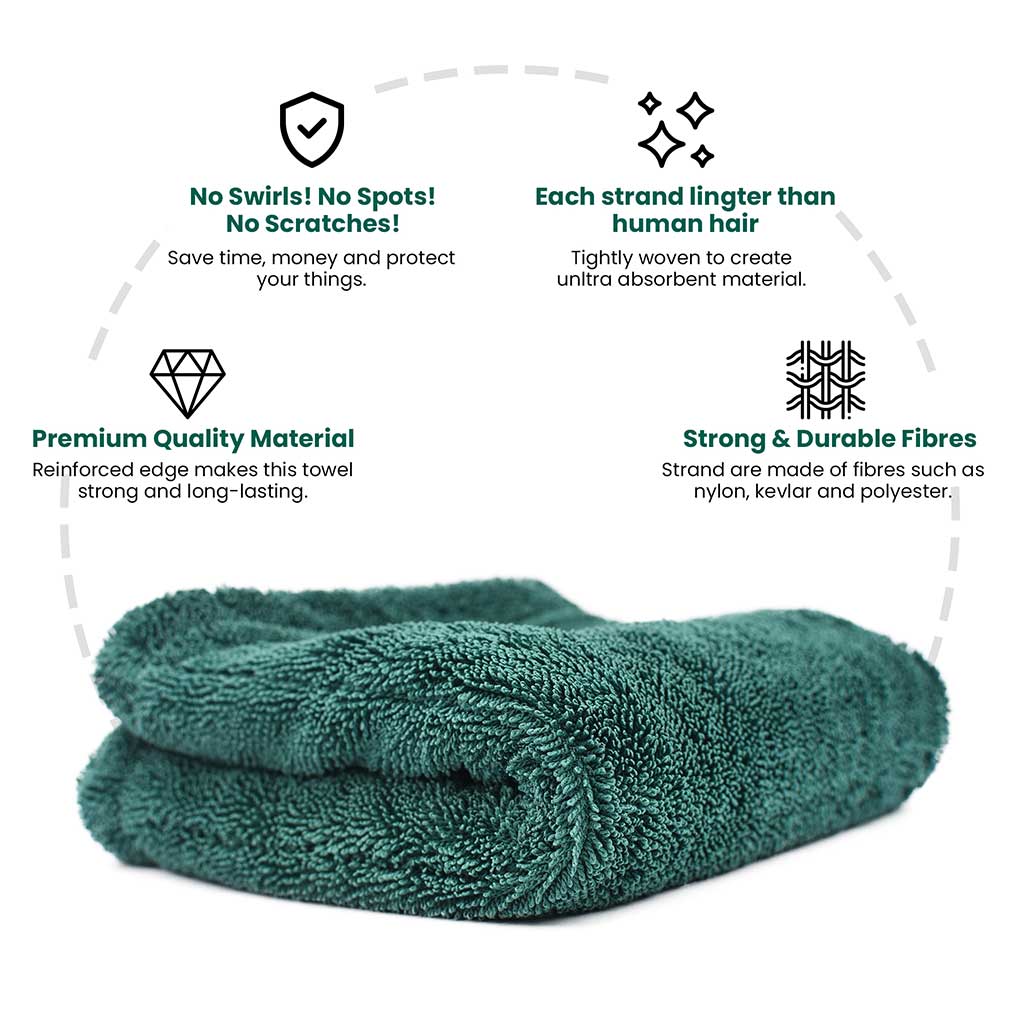 𝐒𝐮𝐩𝐞𝐫𝐢𝐨𝐫 𝐂𝐥𝐞𝐚𝐧𝐢𝐧𝐠 𝐏𝐨𝐰𝐞𝐫 𝐰𝐢𝐭𝐡 𝐋𝐨𝐧𝐠 𝐋𝐚𝐬𝐭𝐢𝐧𝐠 𝐅𝐢𝐛𝐞𝐫𝐬 𝐭𝐨 𝐊𝐞𝐞𝐩 𝐘𝐨𝐮𝐫 𝐂𝐚𝐫 𝐒𝐩𝐨𝐭𝐥𝐞𝐬𝐬 𝐚𝐧𝐝 𝐒𝐡𝐢𝐧𝐲!
This AA Grade Microfiber dries quickly & evenly and has a twisted loop design for superior absorbency & safety. The 70/30 material is softer & more absorbent than 80/20 and can detect microscopic scratches on sensitive paint. It has high water sucking absorbency, slides easily, and with proper care may last hundreds of washings.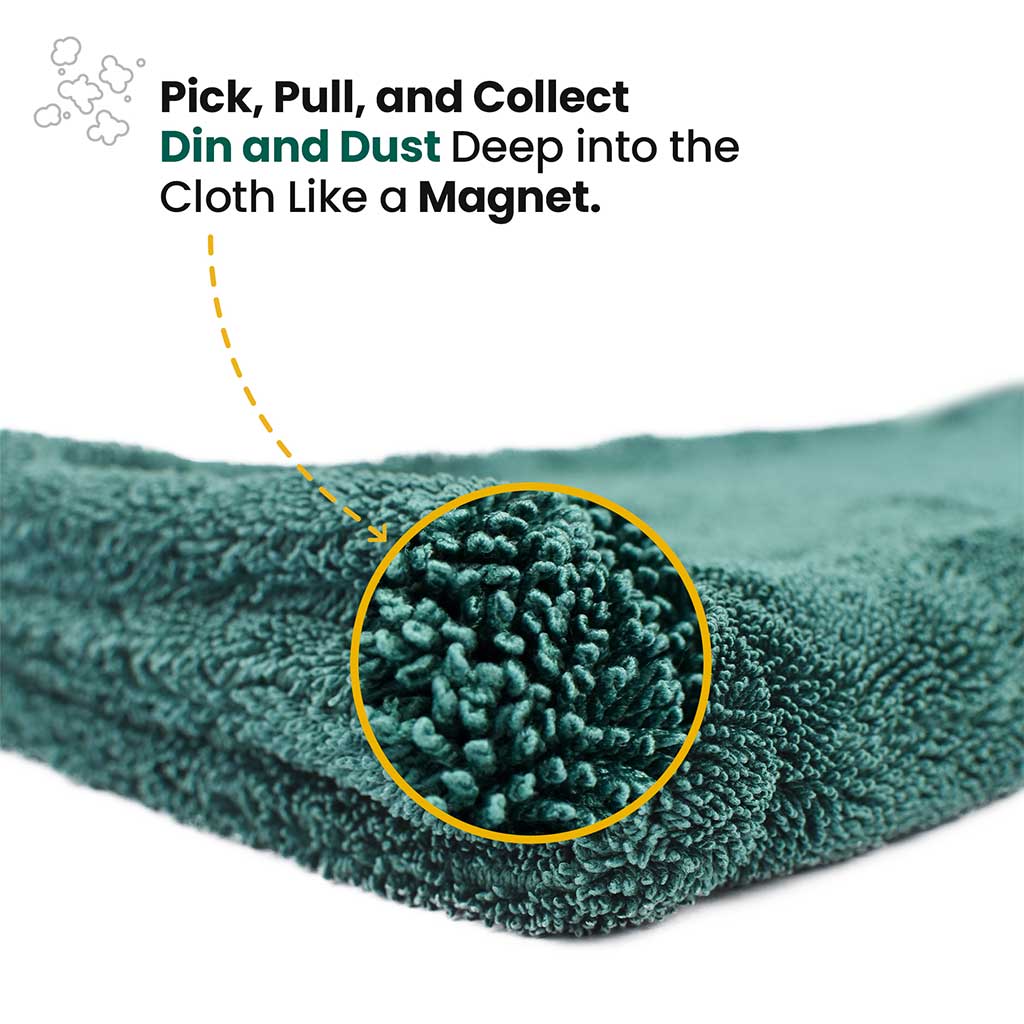 𝐂𝐨𝐥𝐥𝐞𝐜𝐭𝐬 𝐃𝐢𝐫𝐭 𝐚𝐧𝐝 𝐃𝐮𝐬𝐭 𝐅𝐫𝐨𝐦 𝐄𝐯𝐞𝐫𝐲 𝐂𝐨𝐫𝐧𝐞𝐫 𝐋𝐢𝐤𝐞 𝐚 𝐌𝐚𝐠𝐧𝐞𝐭.
This amazing microfiber cloth is like a magnet – it'll pick up, pull, and collect dirt and dust deep in its fibres. Unlike many other fabrics, which just move dirt and dust around the surface, microfiber cloths do a great job of absorbing them. So now you don't need to worry about leaving any dust or dirt behind.
𝐐𝐮𝐚𝐥𝐢𝐭𝐲 𝐂𝐚𝐫 𝐂𝐥𝐞𝐚𝐧𝐢𝐧𝐠 𝐓𝐨𝐰𝐞𝐥𝐬 𝐨𝐟 𝐭𝐡𝐞 𝐈𝐝𝐞𝐚𝐥 𝐒𝐢𝐳𝐞.
When it comes to washing your car, the perfect towel size is 40 x 60 cm. This size is just right to help you get the job done quickly and easily. Larger sizes can be difficult to hold because they are heavier and bulkier when wet. So, stick with a 40 x 60 cm towel, and you'll be sure to get the best results.
All Surfaces Are Safe: This microfiber towel comprises 70% polyester and 30% polyamide. Making it safe for all bike and automobile surfaces.
One Towel For Entire Vehicle: With our new 1200 GSM towels, you can dry your entire vehicle without wringing it out.
Super-Fast Drying: Twist loop towels are the most recent engineering feat in microfiber technology. These ultra-absorbent towels give your surface a super-dry finish in a single wipe, significantly cutting down on drying time.
Soft Border: To prevent scratches and damage to the car's paint or critical parts, this Twisted Loop Microfiber Cloth has soft fabric around its borders.
Incredibly Durable: This Microfiber Cloth is built of 100% AA-Grade split microfiber material and is extremely durable. It can weather hundreds of washes with appropriate care while becoming softer with each wash.
Machine Washable: Unlike regular microfiber towels, this microfiber cloth has been built to the most excellent standards. Allowing it to withstand hundreds of hand or machine washes.
A Microfiber Cloth That is Safe on All Surfaces
This microfiber cloth is perfect for cleaning up messes on any surface. It is gentle on delicate surfaces, lint free, and can hold up to 8x its weight in water, making it great for quickly cleaning up spills. It is lightweight and machine washable, making it easy to keep clean and ready for use.
All of our microfiber clothing undergoes a meticulous quality inspection, ensuring that our clients receive the best products possible. There is no lint, threads, fluff, pills, or fading. Our microfiber cloth can be tumble-dried and machine washed. They are incredibly durable and built to last. They can typically be washed 500 times without harming the fabric, whereas regular towels usually start to lose their shape after 50 washes.
Why Use Microfiber Cloths Instead of Traditional Cotton Cloths?
You add swirl and scratch marks to your car every time you touch it with a regular towel!

Most cotton cloths don't actually pick up dirt and debris; they just spread it about.
The long-term cost effectiveness and benefit of microfiber cleaning cloths make up for any initial cost difference between them and conventional cleaning products. Microfiber cloths last much longer and are more effective than cotton towels, which degrade when used for intensive cleaning.
Shipping and Returns
Shipping cost is based on weight. Just add products to your cart and use the Shipping Calculator to see the shipping price.
We want you to be 100% satisfied with your purchase. Items can be returned or exchanged within 30 days of delivery.
There are no question found.