Motorheadz iron remover works by forming a water-soluble complex with the iron particles lodged in the surface. It allows them to be rinsed free and clean deeper than washing or claying alone. Motorheadz Iron Remover's advanced pH-balanced (pH-7) formula safely breaks down ferrous metallic contamination caused by automotive brakes, rail travel, and construction from delicate vehicle surfaces. It can be used on paint, plastic, chrome, glass, and alloy wheels.

Guaranteed safe & secure checkout
Description
What is rail dust? You may have noticed little orange specks on your car's paint and have wondered where it came from. When small metal particles land on your vehicle and rust, small specks can form. This is called rail dust. Motorheadz iron remover effectively removes rail dust from the vehicle paint without any effort.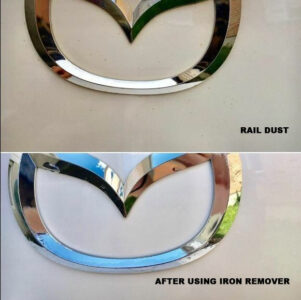 The grey-black dust that often covers a vehicle's wheels is called brake dust. Basically, brake dust is made up of iron particles and is caused by the brake pads' grinding of the cast iron brake rotor. In addition, brake dust also contains some of the metallic elements of the brake pad and carbon residue, which also comes from the brake pad.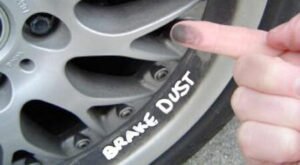 Every time you use your brakes, you create more brake dust. The majority of modern brake pads are semi-metallic. A bundle of steel fibers is compressed and fused with other additives to build a pad. Steel fibre can actually make up 30% of the brake pad, so when it is pressed against the brake rotor, it scratches the rotor and creates brake dust.
While brake dust is not indicative of a malfunctioning brake system, it can be harmful to the wheels if it is never cleaned. Brake dust can corrode the clear coat. Over time it will eventually eat into the aluminium alloy surface of the wheel.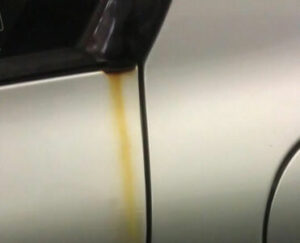 Rust is like cancer once it lands on an iron-containing metal. If that metal is a part of your daily driver, you know you need to act first before it affects its effective functioning and, eventually, its safety level. If you've spotted signs of corrosion on your vehicle,  it's better to start using Motorheadz iron remover once every 6 months.
Rust is the end product of a natural process called the oxidation of metal. This process occurs when the iron in metal reacts to oxygen in the presence of water or moisture. Because iron and oxygen have opposite charges, they combine in a chemical reaction that produces iron oxide, Fe2O3.
This is the unattractive brown and crumbly substance that we call rust. Motorheadz iron remover helps you to remove the iron contaminants from vehicle paint surfaces before they create rusting.
Directions:
Shake bottle.
Wash the vehicle, rinse the vehicle, and remove the majority of the water with a quick towel "once-over".
Spray IronX across the contaminated area.
After 2 ~ 5 minutes, rinse off or wash off if dried (depending on environment and temperatures).
Verify all IronX is completely removed and then dry the vehicle.
Remove the nozzle and replace the cap after use (to avoid leakage).
5 Reasons To Be Our Customer:
| | |
| --- | --- |
| | Exceptional Support Our friendly support staff are available all the time to help customers with any questions or concerns. We want our products to deliver the most joy and value with zero hassle. That's why we insist on being available to assist when the need arises. |
| | 15-Day Money Back Guarantee We are so confident that you will love our products that we offer a 15-day money back guarantee. If eligible product doesn't meet your needs, just ask for your money back. |
| | Quality and Affordable We believe in combining both quality and affordability in our products. There's no reason to pay exorbitant prices when our products do more for less. You won't find better price to quality ratio. |
| | Unbeatable Price – Years of experiences in pet clothing and accessories industry gives us uniqe position to work directly with factories to ensure quality control and the best price possible. |
| | Secure, Easy Ordering – Orders can be placed online using either a credit/debit card or PayPal. All transactions are SSL-secured and guarantee your privacy. |
Shipping and Returns
Shipping cost is based on weight. Just add products to your cart and use the Shipping Calculator to see the shipping price.
We want you to be 100% satisfied with your purchase. Items can be returned or exchanged within 30 days of delivery.
There are no question found.