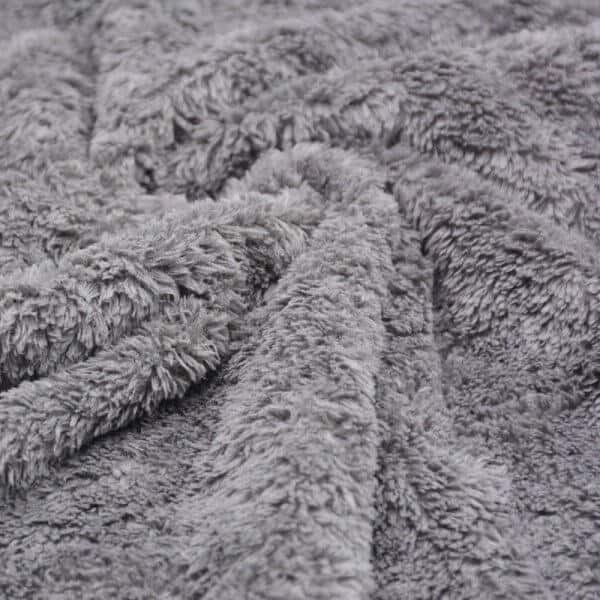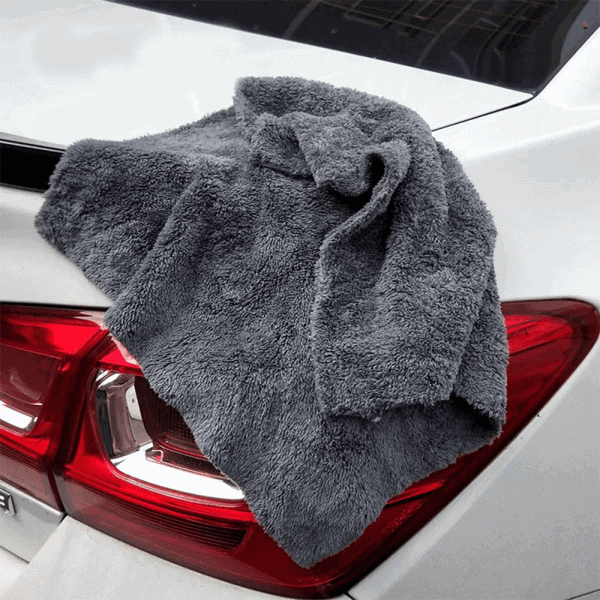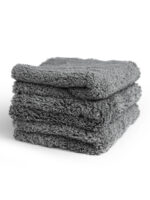 Slate Gray Edgeless Microfiber Cloth
The Slate Gray Microfiber Polishing Cloth is an extremely soft, plush, and gentle cloth that is specifically for wax and polish removal. It has a soft touch that is extra gentle on sensitive clear coat finishes. Plus, the cloth has no edges, making accidental scratches virtually impossible. Use this cloth the next time you wax your vehicle and I promise you'll never use anything else!
The Carbon Black Edgeless Microfiber Polishing Cloth is an 80/20 blend of polyester and polyamide, respectively. When microfiber was first developed, it was widely believed that a higher percentage of polyester was required to make an effective cleaning cloth. Now we know that the cleaning ability of the cloth is determined by its weave structure.
You will see how the structure of the Slate grey is different from other microfiber towels the first time you use it. These dense loops give the towel an uneven texture that is excellent at removing wax, polish and other sealants. These loops enable the cloth to grab wax and polish residue and completely remove it from the paint surface better than the average microfiber towel.

Guaranteed safe & secure checkout
Slate Gray Edgeless Microfiber Cloth
Description
Even paste waxes will come off with ease thanks to this unique design. Many microfiber towels become caked when removing wax or polish residue. For wax removal, the Slate Gray Microfiber cloth is the reigning champ. Its dense fiber construction cleans without caking and leaves the surface completely free of residue and that pesky white dust.
You might also notice in the picture that the edge of the Slate Gray Edgeless Polishing Cloth is not sharp. All fabrics, including those used to make garments, blankets, and towels, have a hem or edge to prevent unravelling. It's just the way it is!
But with microfiber, a hem is not necessary. The plush loops of microfiber serve as their own hem; they will not unravel any time you wash it.
Edgeless design equals NO SCRATCHES! The absence of an edge makes the cloth extra gentle on all your vehicle's delicate surfaces. Looped polyester hems can stiffen over time and cause very slight micro-marring. You won't notice it until you're parked next to a fluorescent light (parking garages). The Slate grey is all microfiber, all the way to the edge. It will not scratch!
Try the Carbon Black Edgeless Polishing Cloth with any wax, polish or paint sealant. You will be amazed at how much easier it is to remove the residue versus conventional towels. Even tough paint sealants and cleaner waxes wipe away with less work.
The Slate Gray Edgeless Microfiber Polishing Cloth makes wax and polish removal a breeze! Try it for yourself and see how the soft, looped texture and no-edge design make wax removal easier and faster than with any other towel.
5 Reasons To Be Our Customer:
| | |
| --- | --- |
| | Exceptional Support Our friendly support staff are available all the time to help customers with any questions or concerns. We want our products to deliver the most joy and value with zero hassle. That's why we insist on being available to assist when the need arises. |
| | 15-Day Money Back Guarantee We are so confident that you will love our products that we offer a 15-day money back guarantee. If eligible product doesn't meet your needs, just ask for your money back. |
| | Quality and Affordable We believe in combining both quality and affordability in our products. There's no reason to pay exorbitant prices when our products do more for less. You won't find better price to quality ratio. |
| | Unbeatable Price – Years of experiences in pet clothing and accessories industry gives us uniqe position to work directly with factories to ensure quality control and the best price possible. |
| | Secure, Easy Ordering – Orders can be placed online using either a credit/debit card or PayPal. All transactions are SSL-secured and guarantee your privacy. |
Shipping and Returns
Shipping cost is based on weight. Just add products to your cart and use the Shipping Calculator to see the shipping price.
We want you to be 100% satisfied with your purchase. Items can be returned or exchanged within 30 days of delivery.
There are no question found.