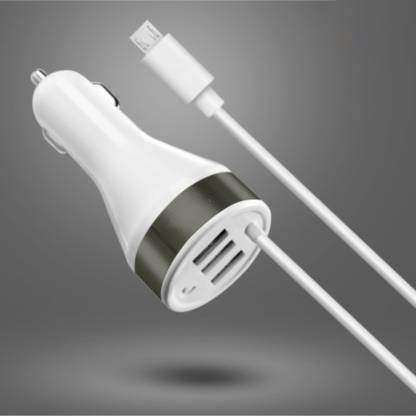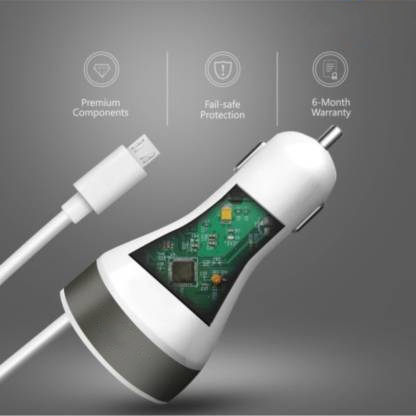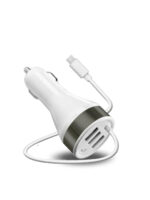 Motor Headz Car Charger (3.1 Amp With 3 USB Port)
Uninterrupted Power with the Car Charger (3.1 Amp with 3 USB Port)!
Stay connected on the go with the robust Car Charger boasting 3.1 Amps of power across three USB ports. This little powerhouse ensures your devices remain fully charged and ready to perform, whether you're navigating the open road or waiting in traffic.
Triple USB Ports: The three USB ports allow you to charge multiple devices simultaneously, ensuring that you and your passengers are always connected. Say goodbye to the hassle of deciding which device gets charged first!
High-Speed Charging: With a total output of 3.1 Amps, this car charger delivers fast, reliable charging every time. It's about minimizing downtime and maximizing efficiency.
Compact Design: Sleek and compact, this charger fits snugly into your car's 12V/24V power socket without being obtrusive. It's a subtle addition to your car, yet offers significant charging capabilities.
Universal Compatibility: Designed to work with a variety of devices including smartphones, tablets, GPS devices, and other USB-powered gadgets. It's the versatile charger your car has been waiting for.
Safe Charging: Built with safety in mind, it features over-current, over-charging, and short-circuit protections to ensure safe charging for you and your devices.
Durable Construction: Crafted to endure daily wear and tear, ensuring reliable charging on all your adventures. It's a small yet sturdy companion for your on-the-road charging needs.
The Car Charger (3.1 Amp with 3 USB Port) is more than just a charger; it's a commitment to keeping your devices powered up, no matter where the road takes you. Don't let a dying battery be the bottleneck to your productivity or fun.
Grab yours today, and experience the freedom of uninterrupted connectivity and endless entertainment on all your road trips! Your journey towards perpetual connectivity begins with this powerful car charger!

Guaranteed safe & secure checkout
Motor Headz Car Charger (3.1 Amp With 3 USB Port)
Description
Ignite Your Drive with 3x Power: Elevate your road trips with the Ultimate 3.1 Amp Car Charger – Fuel Your Devices On the Go!
Revolutionize your on-the-go charging experience with the MotorHeadz 3.1 Amp Car Charger, the pinnacle of convenience and efficiency for all your charging needs. Designed with cutting-edge technology, this high-performance car charger offers not just one, but three USB ports to keep all your devices powered up while you're on the road.
This revolutionary Car Charger comes with multiple safety features, including over-current protection, short-circuit protection, and over-temperature protection so that you can charge your devices with complete peace of mind.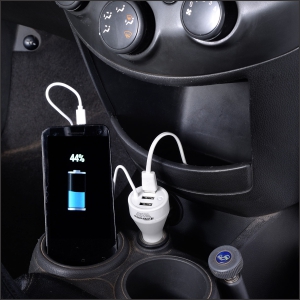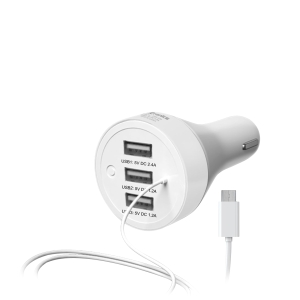 With three intelligently designed USB ports, this car charger allows you to charge multiple devices simultaneously. Whether you're powering up your smartphone, tablet, GPS device, or even your passenger's devices, you'll never have to compromise on charging priority again.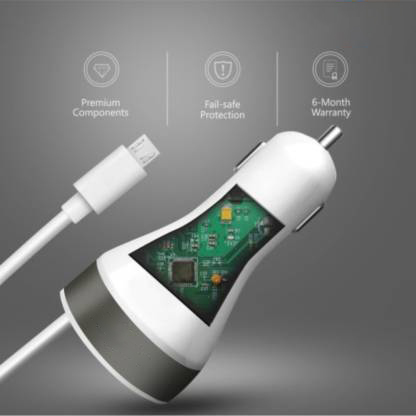 Equipped with advanced 3.1 Amp output, our car charger delivers a blazing-fast charge to your devices. Say goodbye to the frustration of slow charging during your travels. Get back on the road with fully charged devices in no time.
The built-in smart device detection technology ensures that each connected device receives the optimal charging speed it requires. No more worries about overcharging or damaging your valuable gadgets.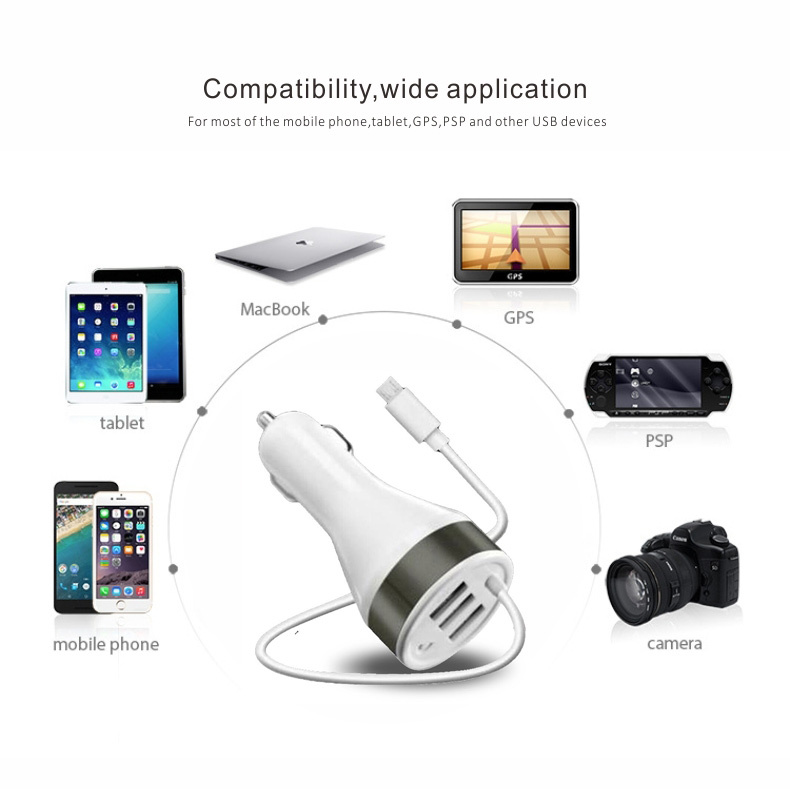 This car charger is universally compatible with a wide range of devices, including smartphones, tablets, MP3 players, Bluetooth devices, and more. No matter what you need to charge, this charger has you covered.
Experience unparalleled peace of mind with the multiple layers of intelligent security protection that our product offers. Your devices are shielded from every angle, ensuring their safety and your tranquility. The advanced system includes over voltage protection, preventing voltage spikes from harming your gadgets. Short circuits are a thing of the past, as our product features dedicated short circuit protection that safeguards against accidental electrical disruptions. Our intelligent anti-interference technology ensures that external disruptions won't compromise your charging experience. With intelligent output detection, each device receives precisely the power it needs, avoiding overcharging or damage. Over current protection guarantees that excessive currents won't pose a threat, while over temperature protection ensures that your charger remains cool and efficient even during extended use. Your safety and the longevity of your devices are our top priorities, and our comprehensive security measures reflect this commitment.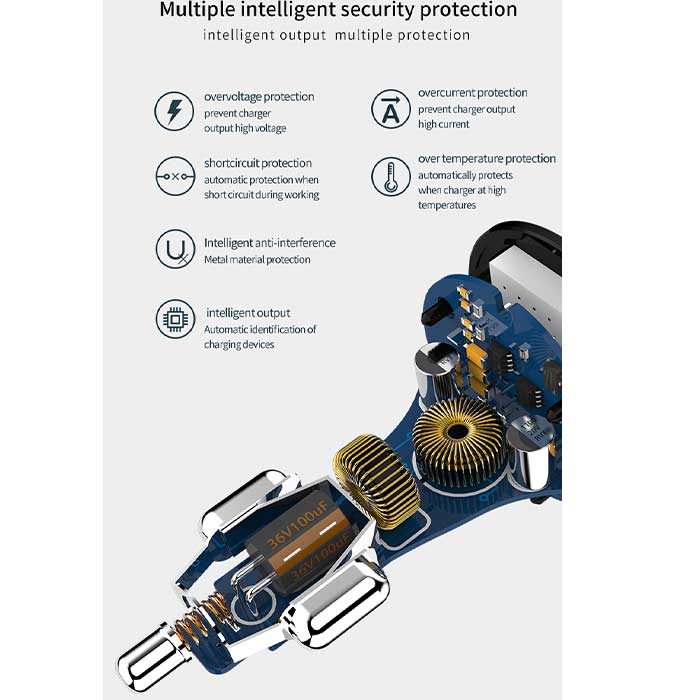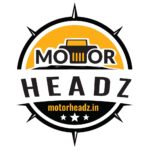 At MotorHeadz, we are committed to delivering products that exceed expectations. Our Car Charger 3.1 Amp with 3 USB Ports is a testament to our dedication to innovation, quality, and customer satisfaction. When you choose MotorHeadz, you're choosing:
Reliability: Count on us to provide a consistent and powerful charging solution for all your devices.
Quality: Our car charger is built to last, ensuring you get the best value for your investment.
Convenience: With three USB ports, charging multiple devices is no longer a hassle.
Safety: Our safety features ensure worry-free charging, every time.
Style: The sleek design of our car charger adds a touch of elegance to your car's interior.
Elevate your driving experience with the MotorHeadz Car Charger 3.1 Amp. Say goodbye to low battery anxiety and hello to seamless charging on the road. Order yours today and power up your journey like never before!
Shipping and Returns
Shipping cost is based on weight. Just add products to your cart and use the Shipping Calculator to see the shipping price.
We want you to be 100% satisfied with your purchase. Items can be returned or exchanged within 30 days of delivery.
There are no question found.