How To Use Motor Headz Foam Sprayer?
You've seen those photos of cars covered with thick, white foam, and you've often wondered: "Just how exactly do they do that?" The secret is a Foam Sprayer! Not just any Foam Sprayer but Motor Headz Foam Sprayer aka Motor Headz Foam Blaster. This handy little tool quickly mixes concentrated Foam Shampoo and transforms it into a thick, foamy wash that coats any vehicle surface. The insane amount of suds they shoot off will make your driveway look like a snowy mountain. Thick foaming suds lubricate and cover the surface of your car, allowing you to brush it off with your wash mitt to glide over the surface without installing swirls or scratches. The best part about our Foam Blaster is that no hose attachment, no electricity, running water or battery is needed! – pump it up by hand, and you're ready to go!
There is a lot of confusion regarding the necessity and usage of a foam blaster, as most people consider this device unnecessary or just a waste of money. It's insane how many people ignore this equipment which saves you from dozens of problems arising during the washing of your vehicle. And if you have already purchased our Foam Blaster but have some confusion regarding its usage, worry not, as we will explain how to assemble and use it for maximum effect.
Precautions and Recommended Practices:
This sprayer is suitable for household and car cleaning. Do not spray acid, alcohol, gasoline, and other highly corrosive, flammable, and explosive liquids. If those liquids cause product damage and accidents, the company reserves the right not to provide after-sales and can not take the related responsibilities caused by this.
Do not exceed the maximum liquid level (refers to the highest warning line on the bottle body or 2/3 of the bottle body capacity). There needs to be enough space to store the air pressure in the bottle.
Pressurize until you feel a strong resistance. Please do not overpressurize so as not to affect the lifespan of the product. After each use, the pressure should be released, the liquid in the bottle should be emptied, and the sprayer should be carefully cleaned with clean water to avoid no foaming after the subsequent use.
Please store the product in a cool place to avoid prolonged exposure to the sun which may damage the product. This product was tested before leaving the factory, and it is normal for a small amount of water to remain in the pot.
How To Assemble The Product
The Motor Headz foam blaster you received from us is already assembled state. You can pour water and foam shampoo and use it directly. No need to change the Nozzle. Please watch the above video to know steps by step tutorial. We've also shown the method to transform your foam sprayer into a water sprayer.

Motor Headz Team
How to Change Foam Sprayer into Water Sprayer?
Pull out the small pipe underneath the sprayer head and remove Foaming Nozzle Tip.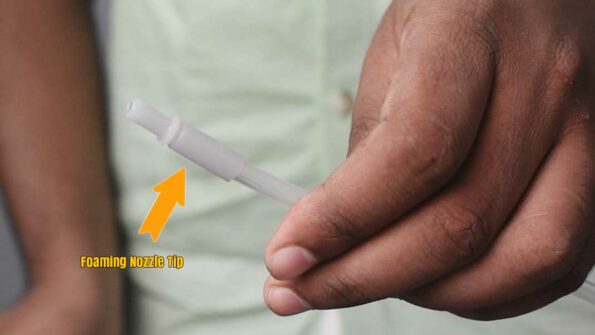 Insert the pipe into the hole inside of sprayer head directly. Choose your desired water spraying nozzle.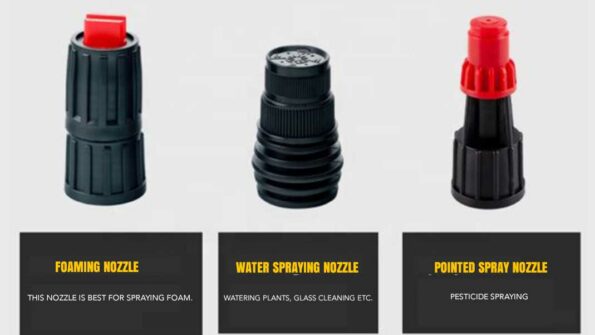 Use the pressure release valve to release excessive pressure before removing each nozzle. Otherwise, the liquid will start leaking when you remove the existing nozzle.
Install the sealing gasket and nozzle step by step (See the below picture)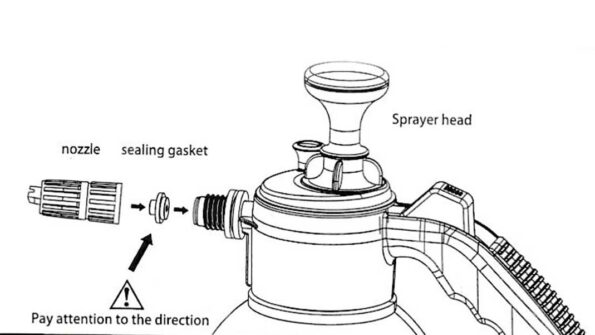 How to Use Motor Headz Foam Blaster?
Mix the water and detergent in a suitable ratio (1:50) then shake the body up and down after tightening the head. (The ratio of different cleaning agents is not the same so the user needs to debug and test by themselves). We recommended using 10 ML car washing shampoo concentrate on 500 ML Water.
Push the pump rod up and down until there's a strong resistance. Once you reach a strong resistance point stop pressurizing.
Aim the foam blaster at the object to be sprayed and press the switch to start spraying. When you feel like the pressure has dropped, pump the rod up and down again to ensure continuous spraying.
Allow the foam to settle. When grime and dirt slide off your car, rinse the car with water. This will help you minimize the chances of wash-induced scratches and swirls. Now repeat this step one more time for complete cleaning. Just make sure to use a wash mitt to scrub any remaining specks of dirt.
Finally, dry your car with a microfiber towel. If you are looking for quality microfiber towels, fear not; we have just that. Just click on the shop button and browse our high-quality microfiber towels.
Important Notes:-
Because foam sprayer needs to consume lots of air in the bottle, we recommend you load a maximum of 1L of liquid and not 2L to make it spray for a much more extended period. After each use, wash and rinse your foam blaster clean. First, empty the bottle of any leftovers, then flush the bottle with clean water. Reattach the sprayer head and spray the clean water until no more soapy water comes out. Now, store the foam blaster in a clean and dry place.